"Buy or sell equipment in the Shop."
The Shop is the area where you can buy and sell equipment for your Heroes. You unlock new equipment every 4 shop levels (levels 5, 9, 13, etc.) however all equipment will be of white quality only.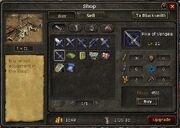 Buy Tab
The number next to the item represents how much that item boosts whatever stat it is related too. The number in parenthesis shows how much that stat will go up with each level of fortification.
Note: With the exceptions of cloaks and mounts, all items provide an additional +2 to troops commanded, increasing by +2 for each level of fortification.
The levels of the items are listed below. The level of each set is the same as the level of the shop required to unlock it.
Set 1: Level 1
Set 2: Level 5
Set 3: Level 9
Set 4: Level 13
Set 5: Level 17
Set 6: Level 21
Set 7: Level 25
Etc.
List of Items
Weapons
Armor
Accessories
Mount/Ride
Sell Tab
This is where you can sell an equipment for a return value of Gold. Sell returns back approximately 80% of the gold spent on forting plus an additional percentage equivalent to your shop level
(0.8*Total Fort Cost)+(Shop Level)%

Exchange Tab
-The exchange tab is where you trade Fragments for items-
"Use fragments to exchange for relevant equipment"

Fragments

are the second rarest resource in the game. Fragments can be exchanged in the Shop for rare and otherwise "un-droppable" items, or used to Recast an item at the Blacksmith, granting it a random stat bonus.

Fragments can be obtained by completing daily tasks - after completing the daily Levy task, the Battle task will appear. You can complete the task by completing legions from Chapter 1 through to Chapter 5 and Tower of Soul, each task awarding 1 fragment leading up to a maximum of 6 fragments a day from tasks. Additional fragments can be purchased for 5 Diamonds each in the Mall or in Crazy Adventure.

Once you have bought a Fragment item from the shop, you can later return to the shop to exchange it again and receive a refund of half of the fragments spent. Originally, you were unable to put "Frag" items in the Auction House, but that has been changed[*]: now only items that require both Fragments and a certain Cave item are unable to be auctioned.
[*]This information needs to be reviewed, atleast on all of Kabam's servers these items are not sellable in the AH. 'Zaach (talk) 00:02, February 24, 2013 (UTC)