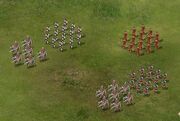 "We must retake the Holy City."
Richard is the 17th obtainable Hero. He is found at the 25th battle at Holy Road in Ancient Observation.
The son of Henry II succeeded to the crown in 1189. As a knight, he fought courageously in battlefields and was respected as "King Richard".
Richard

Stats at lvl 1:

Power:
89
Agility:
76
Intelligence:
53
Command:
70
Soldiers:
235
Type: Physical



Command unit: [Commando Pike Calvary]


Skill: [Group Assault]
Strike: 2x
Passive: [Evade]