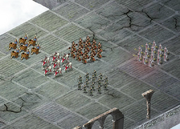 "Stranger, I have been waiting for you for a long time."
Rhea is the 41st obtainable Hero. She is found at [Save Zeus] in Ancient Myths at the 20th fight, Rhea Troops. Rhea is the fourth offensive Mage Hero apart from main heroes and also the first Warlocks hero.
Rhea, the Goddess who controls the time in Greek myth.
The battle to obtain Rhea is actually called "Rheia Troops"
Rhea

Stats at lvl 1:

Power:
62
Agility:
67
Intelligence:
93
Command:
80
Soldiers:
240
Type: Magic



Command unit: [Warlock of Collapse]


Skill: [Collapsing Skill]
Strike: None
Passive: None
Ad blocker interference detected!
Wikia is a free-to-use site that makes money from advertising. We have a modified experience for viewers using ad blockers

Wikia is not accessible if you've made further modifications. Remove the custom ad blocker rule(s) and the page will load as expected.