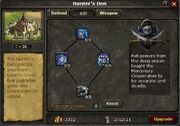 The Hunter's Den is the Mercenaries' unique building where you can upgrade your main's special. It is the same building as the Fort of Greatness and the Sacrificial Grounds. It is obtained at level 35 of your Town Hall.
"Defenders who fight against the tide no longer fear bloodshed; they fight to the death when defending their people."
"Evil powers from the deep ocean taught the Mercenary Cooperative to be accurate and deadly."
"Tidal waters enchant the Mercenary Cooperative's weapons so that they can utilize the power of the ocean."
Ad blocker interference detected!
Wikia is a free-to-use site that makes money from advertising. We have a modified experience for viewers using ad blockers

Wikia is not accessible if you've made further modifications. Remove the custom ad blocker rule(s) and the page will load as expected.