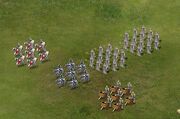 "Poor knights, the holy land is ahead."
Hugues is the 18th obtainable Hero. He is found at the 8th battle at Road to Revenge in Ancient Observation.
The King of Cyprus was one of the commanders during the 5th Eastward Expedition of the Crusades.
Hugues is based on Hugues de Paynes.
He is sometimes referred to as "Hugs" or "Huggies" by players.
Hugues is the only mage that does not have a magical aspect in terms of his special and sprite.
As a [Growler], Hugues is also the ONLY magic unit with a true passive skill, that is excluding Main Heroes with a Talent based [Fight Back].
Hugues
Stats at lvl 1:

Power:
45
Agility:
53
Intelligence:
60
Command:
63
Soldiers:
231
Type: Magic


Command unit: [Growler]


Skill: [Cry]
Strike: None
Passive: [Evade]



Ad blocker interference detected!
Wikia is a free-to-use site that makes money from advertising. We have a modified experience for viewers using ad blockers

Wikia is not accessible if you've made further modifications. Remove the custom ad blocker rule(s) and the page will load as expected.