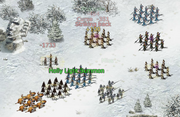 Holy Light Summon
---
Increase 30 points of moral for all your arms who utilize physical attack and decrease 15 points of morale for enemies.
Chanters, an enemy hero found after "The Land Of Emptiness" which replaces Growlers, uses Holy Light Summon.
It is used by [Andromeda]
There is a misspelling in the name of the special during battles, as you can see in the example picture
Ad blocker interference detected!
Wikia is a free-to-use site that makes money from advertising. We have a modified experience for viewers using ad blockers

Wikia is not accessible if you've made further modifications. Remove the custom ad blocker rule(s) and the page will load as expected.