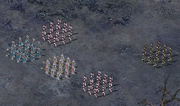 "Fall into the darkness forever"
Hecate is the 39th obtainable Hero. She is found at the 22nd battle of Steal Fires in Ancient Myths.
Ghost of Magic Goddess represent the darkness of the world.
She is based on Hecate, the Goddess of magic, witches and necromancy.
Hecate

Stats at lvl 1:

Power:
58
Agility:
62
Intelligence:
95
Command:
75
Soldiers:
237
Type: Magic


Command unit: [Charmer]


Skill: [Charm Attacks]
Strike: None
Passive: None
Ad blocker interference detected!
Wikia is a free-to-use site that makes money from advertising. We have a modified experience for viewers using ad blockers

Wikia is not accessible if you've made further modifications. Remove the custom ad blocker rule(s) and the page will load as expected.