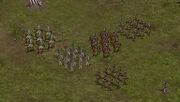 "God's favored ambition."
Genghis Khan is the 30th obtainable Hero. He is found at the 28th battle at Khan's Subversion in Riding a Horse into Battle.

Genghis Khan's original name was Temujin. He was one of the greatest politicians and military powers in history.
It is interesting to note that Genghis Khan was Kublai Khan's grandfather, they are 50 years apart and meaning Kublai would have to be only 15 years old when Genghis died at 65. However they are both found in "Khan's Subversion" and appear to be around 60-ish for Genghis and Kublai being around 35.
Genghis Khan
Stats at lvl 1:

Power:
89
Agility:
60
Intelligence:
55
Command:
90
Soldiers:
245
Type: Physical



Command unit: [Crossbow Man]


Skill: [Multi-Assault]
Strike: 2.5x
Passive: [Evade]
Ad blocker interference detected!
Wikia is a free-to-use site that makes money from advertising. We have a modified experience for viewers using ad blockers

Wikia is not accessible if you've made further modifications. Remove the custom ad blocker rule(s) and the page will load as expected.