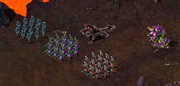 This page is about the hero unit, you may be searching for the [NPC] unit
"Hoo~!Strangers爂et爋ut爋f爃ere."
Cerberus is the 42nd obtainable Hero. It is found at the 8th battle of
River of Misery
in
Ancient Myths
.
Evil dog who watches over the gates to hell
Cerberus(Hero)
Stats at lvl 1:

Power:
60
Agility:
60
Intelligence:
80
Command:
80
Soldiers:
240
Type: Magic


Command unit: [Cerberus]


Skill: [Blasting Fireball]
Strike: None
Passive: None



Cerberus is the only hero that does not have its own avatar, instead it uses the same avatar as its NPC
Cerberus is based on the three-headed dog that guards the Underworld
Ad blocker interference detected!
Wikia is a free-to-use site that makes money from advertising. We have a modified experience for viewers using ad blockers

Wikia is not accessible if you've made further modifications. Remove the custom ad blocker rule(s) and the page will load as expected.