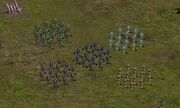 "The spirit of sin must be punished".
Carl is the 19th obtainable Hero. He is found at the 24th battle at Road to Revenge in Ancient Observation.
As an excellent wizard amongst the Damietta guards, he led the guards to resist the Crusades' attacks for several months.
Carl
Stats at lvl 1:

Power:
32
Agility:
44
Intelligence:
79
Command:
71
Soldiers:
235
Type: Magic



Command unit: [Corruptor]


Skill: [Natural Power]
Strike: None
Passive: None
Ad blocker interference detected!
Wikia is a free-to-use site that makes money from advertising. We have a modified experience for viewers using ad blockers

Wikia is not accessible if you've made further modifications. Remove the custom ad blocker rule(s) and the page will load as expected.